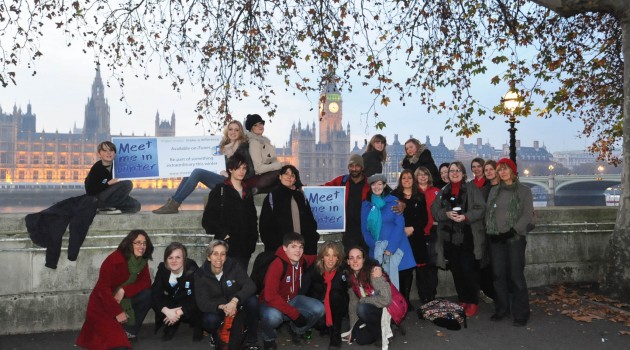 A group of just over 20 soloists and choir members sang the song all the way around London yesterday carrying a sign reading "We don't want your money…just your smiles". And what a lot of smiles we got!
On tube trains. In stations. By the London Eye. Outside the Houses of Parliament. At St Paul's. Beneath Nelson's Column. In Chinatown. On Hungerford Bridge. Around the piano in the Central Hall of St Thomas' Hospital. In the Apple Store, Covent Garden.
We certainly got our voices heard and our logo seen by many, many people, but most importantly of all, we had a really fantastic time. How wonderful to spend a day singing with friends of all ages, simply for the pleasure of doing so.
Here's the piece the Press Association released last night along with Barry's beautiful photo of all the flashmobbers. The story is currently popping up in newspapers all over the country – just Google Meet Me in Winter and you'll see!