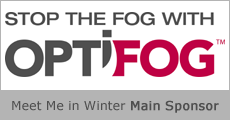 Here's a bit of information about our very generous main sponsor and the work that they do….
Essilor is the world leader for corrective spectacle lenses and the group has a presence in more than 100 countries, including the UK. The success of Essilor is the result of a strategy that has been driven by innovation for more than 160 years. From design to manufacture, the group develops a wide range of lenses to correct and protect eyesight.
There are 380 employees in the UK split between sites in London, Manchester and Thornbury near Bristol which is the UK's head office. Essilor Ltd supplies spectacle lenses to opticians and prescription laboratories based in the UK and Ireland, many of which are made at the state of the art production facility in Thornbury.
Essilor's newest product is Optifog, a product which represents a giant leap in lens technology and is the first spectacle lens that doesn't steam up.
The next time you buy new glasses ask your optician for Essilor lenses and you'll be guaranteed great quality and great vision. To find out more information about Essilor lenses visit out websites: www.varilux.co.uk, www.optifoglenses.co.uk , www.crizal-lenses.co.uk.